Welcome to www.panzer-modell.de

We salute you on our Website which is focussed on military modelling in scale 1/35! On the following pages we not only want to show you or built scale models, we simply want to help you out with any kind of ressources that are needed for our fine hobby!


But now have fun with exploring our pages - your Panzer-modell-Team




Here we will present you the build of single model kits with comprehensiv text, all information about errors and where to watch out as well about painting and weathering. This is enhanced by many in progress photos to whow what we are talking about.

www.Panzer-Modell.de will have a look in the box of new kits, accessories and books: here you can see what is inside and read about quality and contents.




here you'll find built models from our readers

Each month we present a book that we find very recommendable.
So - have a look

Find everything here to have sources for military modelling! From original photos of tanks to unit organisations, from tactical signs to ranking systems!

A synopsis of recommendable books for modellers to have as source for military modelling

A little category where we want to show Tipps & Tricks for modelling to help modellers to gain new techniques or make things easier. From painting of roadwheels to complex weathering, from opaque white to pastel chalk.
Legal Information / Privacy Policy:

We are a non-commercial, purely private website that serves to share information about this beautiful hobby, we do not make money from it!

This website is protected by copyright. The files offered may only be downloaded for private, non-commercial purposes. The reproduction and distribution of contents of this web site and references to it are only permitted free of charge and under the condition that the source (Internet address: www.panzer-modell.de) is called. The copyright and rights of use remain with the owners of this website or with the owners named in the copyright.
All pictures and texts are subject to the copyright of the respective authors of the articles. Equally the responsibility for the legal safety of the individual articles lies with the respective authors. The authors assure that pictures and texts are free of third party rights. The owners of Panzer-Modell.de can not be prosecuted for violations of the rights of third parties by contributions from authors and will release the contact details of the author in question to the rightsholder to protect these rights.
With judgment from 12 May 1998 the regional court Hamburg decided that one is responsible for the contents of the linked side by the integration of a link if necessary. This can only be prevented by expressly distancing oneself from these contents.
Panzer-Modell.de has links to other sites on the internet on various pages of this homepage.
We, the makers of Panzer-Modell.de, would like to emphasize that we have no influence on the design and content of the linked pages. Therefore we dissociate ourselves from all contents of all linked pages on our homepage and do not adopt their contents. This declaration applies to all links included on our homepage.
The removal of an unlawful link can take place at the earliest when the page owner takes notice - so if there is a reason to complain about a link, please inform the site owner.
We expressly distance ourselves from any right-thinking. The models and vehicles pictured here are not for the glorification of the 2nd World War, the 3rd Reich, the Wehrmacht or the Waffen SS.
When submitting photos we ask you to make unconstitutional badges according to §86 StGB unrecognizable!


cookies

Like many other websites, we also use so-called "cookies". Cookies are small text files that are transferred from a website server to your hard drive. This automatically gives us certain data, such as IP address, browser used, operating system from your computer and your connection to the Internet.
Cookies can not be used to launch programs or to transfer viruses to a computer. Based on the information contained in cookies, we can facilitate navigation and enable the correct display of our websites.
In no case will the data collected by us be passed on to third parties or a link with personal data will be established without your consent.
Of course, you can also view our website without cookies. Internet browsers are regularly set to accept cookies. You can deactivate the use of cookies at any time via the settings of your browser. Please use the help features of your internet browser to find out how to change these settings. Please note that some features of our website may not work if you have disabled the use of cookies.


Collecting general information

When you access our website, information of a general nature is automatically recorded. This information (server log files) includes, for example, the type of web browser, the operating system used, the domain name of your Internet service provider and the like. This is only information that does not allow conclusions about your person. This information is technically necessary to correctly deliver the contents of web pages requested by you and is mandatory when using the internet. Anonymous information of this kind is statistically recorded by the provider and evaluated by us for evaluation of the traffic of individual contents.
The Webmaster
No navigation bar on the left? ? Click <here>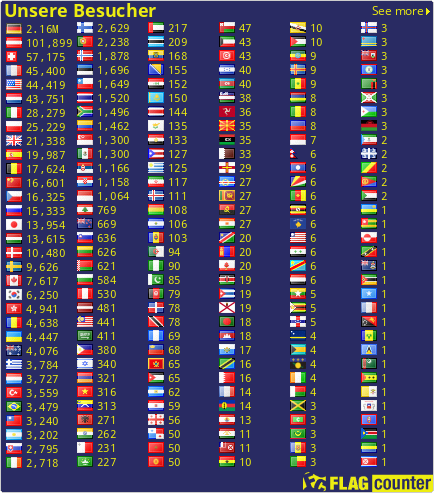 ---
© 2001, optimimized for Firefox and resolutions of 1024x768 with 24 bit color